Product
·
Multiple locations
·
Hybrid Remote
UX Product Manager
Unique position for a unique candidate. Product Manager with strong UX or a UX Designer with Product Manager/Owner experience. You'll be in charge of our Service administration interface & order flow.
We usually respond within a week
We are opening a unique position for which we are looking for a unique candidate. We are looking for a Product Manager with strong UX or a strong UX person with Product Manager/Owner experience. You will be in charge of our order flow and webadmin, which helps hundreds of thousands of clients setup and operate their hosting services.
What will you work on?
You will be responsible for maintenance and development of our internal tools, i.e. our Service administration interface, the e-commerce part of our website and the back office tool for our helpdesk.

You will cooperate with our IT in an agile team, colleagues from other teams and our UX/UI designer to continuously specify and deliver new features for our clients.

One of your priorities will be to evaluate the effectiveness and UX of our products and tools and sketch their future direction.

You'll effortlessly communicate with external companies and suppliers.

Do you like to keep a good track of everything? Great! Keeping tabs on the market, competitors and trends will be your domain.

Apart from the business aspect, being customer-oriented is key. Clients will be excited to communicate with you, because you'll solve their problem. Every day, you'll collect and manage feedback from both clients and colleagues.

Based on your experience and data, you'll design solutions, but also oversee the whole process, be it documentation, implementation, testing, release, continuous development and the gathering of feedback… don't worry, you'll get into it.

You'll contribute to customer behavior analyses, the customer journey, the segmentation of customers and more. In turn, you'll be able to move our products to the next level = win win :)

Every day, you'll collaborate and communicate with colleagues from across all our markets.

You'll spend some time helping to migrate clients from other markets and consolidate the product portfolio into a common platform.

How's it looking so far? Excited yet? Rightly so!
What do we expect from you?
Previous work experience as an IT Product Manager with UX experience or focus on improving customer experience

Or previously worked as a UX Designer with experience with managing IT/software products on position as Product owner/manager

Solid communication skills, because everything revolves around the product in our company.

Analytical skills, i.e. being able to interpret analyses as well as run them.

The ability to identify the underlying issue and a solution-oriented mindset (finding the stumbling block and getting it out of the way)

Initiative and interest in taking responsibility for whatever is necessary, i.e. analyses, documentation, testing, product management, creating business cases and tutorials #hustle

Proactivity and drive that you can expect to see both in the rest of the Product team and the whole company

A level of English that will enable you to communicate daily, but also to build an argument and persuade your colleagues in a discussion

Your opinion, the ability to defend it, but also to receive constructive feedback (we're not looking for sheep who just follow the herd)

Technical background and, ideally, experience with software and web development

Have you managed to keep reading until now? You're a step closer to an interesting job. Keep going!
What will get you some bonus points?
Multiple years of experience in both positions as IT Product manager/owner and UX Designer

Advanced experience with analytics and the ability to work with analytical tools

Knowledge from hosting / domain or online marketing tools or email solutions (experience with email solutions or tools for building websites for the end user)

If you don't feel at home in these skills, don't worry. You can be all the more excited that we'll make sure to add them to your CV :)
What will your initial days look like?
During your first week, we'll walk you through how we run our company, our history and ambitions. Your new colleagues from various departments will gradually show you how we do things around here and you'll also learn how our Helpdesk works.

You'll familiarize yourself with the Product team and gradually take on the agenda. You'll get up to date with the backlog and you'll be able to add your own ideas and feedback.

We'll hand the agenda over to you as soon as possible, so that you can become an independent member of the team (it's not an oxymoron… we'll give you space and you'll help us improve our products)

Once the first three months are up, we'll go over your recommendations and a plan for what we'll work on together in your segment.
Departments

Product

Locations

Stockholm, Bratislava, Västerås, Prauge, Helsinki

Remote status

Hybrid Remote
Welcome to Loopia, Sweden's largest web hosting company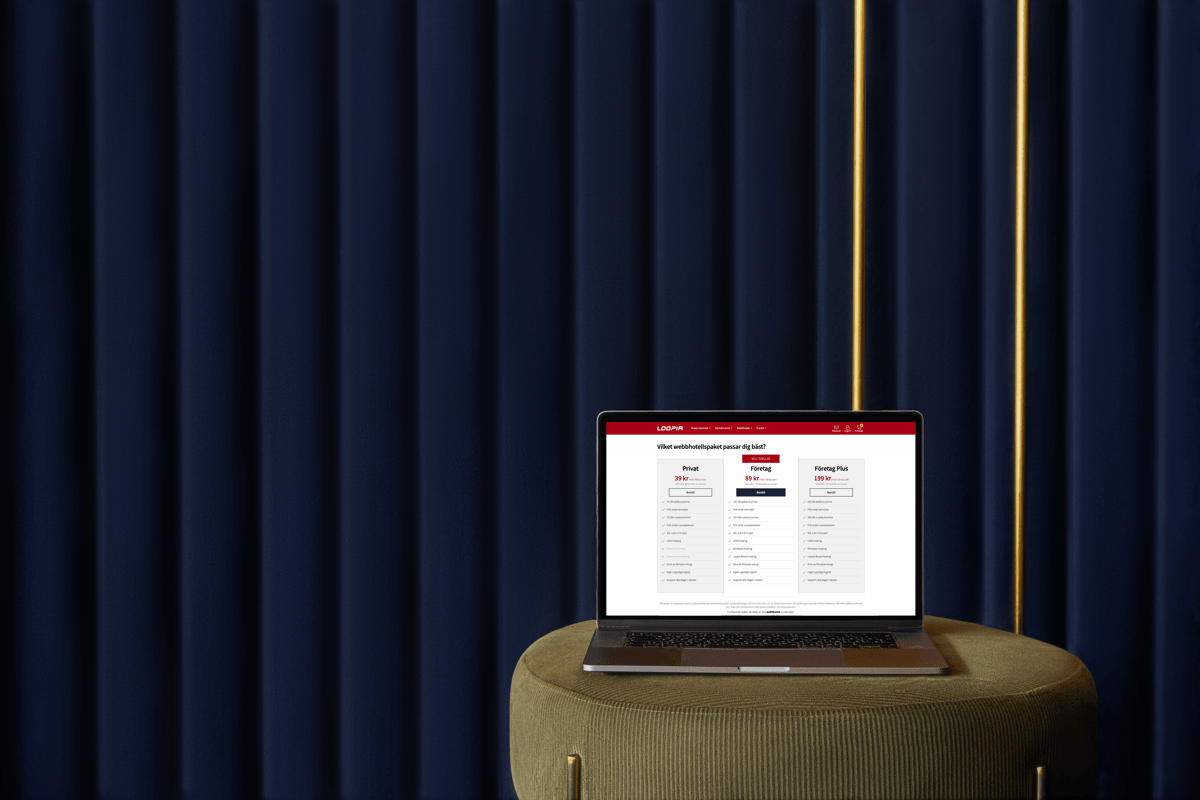 We at Loopia offer user-friendly services, knowledge sharing and a really awesome support that helps you as an entrepreneur to get started quickly and easily on the web with website, e-mail and everything else you need to be successful online.
About Loopia
Loopia is one of Scandinavia's largest web hosting providers that offers easy-to-use services, knowledge sharing and a really awesome support to help you get started quickly and easily online with website, email and more.
Product
·
Multiple locations
·
Hybrid Remote
UX Product Manager
Unique position for a unique candidate. Product Manager with strong UX or a UX Designer with Product Manager/Owner experience. You'll be in charge of our Service administration interface & order flow.
Loading application form
Already working at Loopia?
Let's recruit together and find your next colleague.