Marketing
·
Flera platser
·
Hybrid
Head of Web Development
This is a great opportunity to join a fast-growing tech company that provides important web services enabling entrepreneurs and makers to succeed online
Vi svarar vanligtvis inom två veckor
Loopia Group
Come join us on an exciting growth journey towards becoming Europe's greatest domain and hosting provider! Our operations are located in Sweden, Finland, Slovakia, Czech Republic, Hungary, Serbia and Germany with customers located across Europe. Our main brands are Loopia, WebSupport, Active 24, Planeetta, Hostingpalvelu and Domainhotelli. Loopia Group has a total turnover of 600 MSEK and approx. 310 employees. 


The role
The Head of Web Development is responsible for building, maintaining and developing our Group CMS across markets and brands and to drive all front end web development for our brand portfolio. The role requires close collaboration with Product, Tech and Marketing to ensure requirements are met related to our technical platform, products (and order/payment flow), content production, customer analysis and CRM.
The goal and objective of the role is to ensure a great customer experience and to optimize for conversion, improve UX/UI, implement human-centered design and everything in between. This role provides leadership and strategy, as well as assumes the role of subject matter expert, for all web-related topics. You will work closely with internal teams as well as external suppliers.
Profile 
You are unpretentious and thrive in a role where collaboration is important. You have a strong sense of responsibility for your tasks and you enjoy the role as subject matter expert who many people turn to. You have several years of experience working with web management and a strong technical understanding of how front end, UX/UI, back end and product are connected. 
You have extensive experience in Wordpress and a good understanding of the most common programming languages. 
Requirements 
- Min +5 years of experience in Web Management
- Relevant Bachelors degree 
- Fluency in English 
- Extensive experience in Wordpress 
- Good understanding of most common programming languages
Departments

Platser

Stockholm, Helsinki, Bratislava, Västerås

Distansarbete

Hybrid
Välkommen till Loopia, Sveriges största webbhotell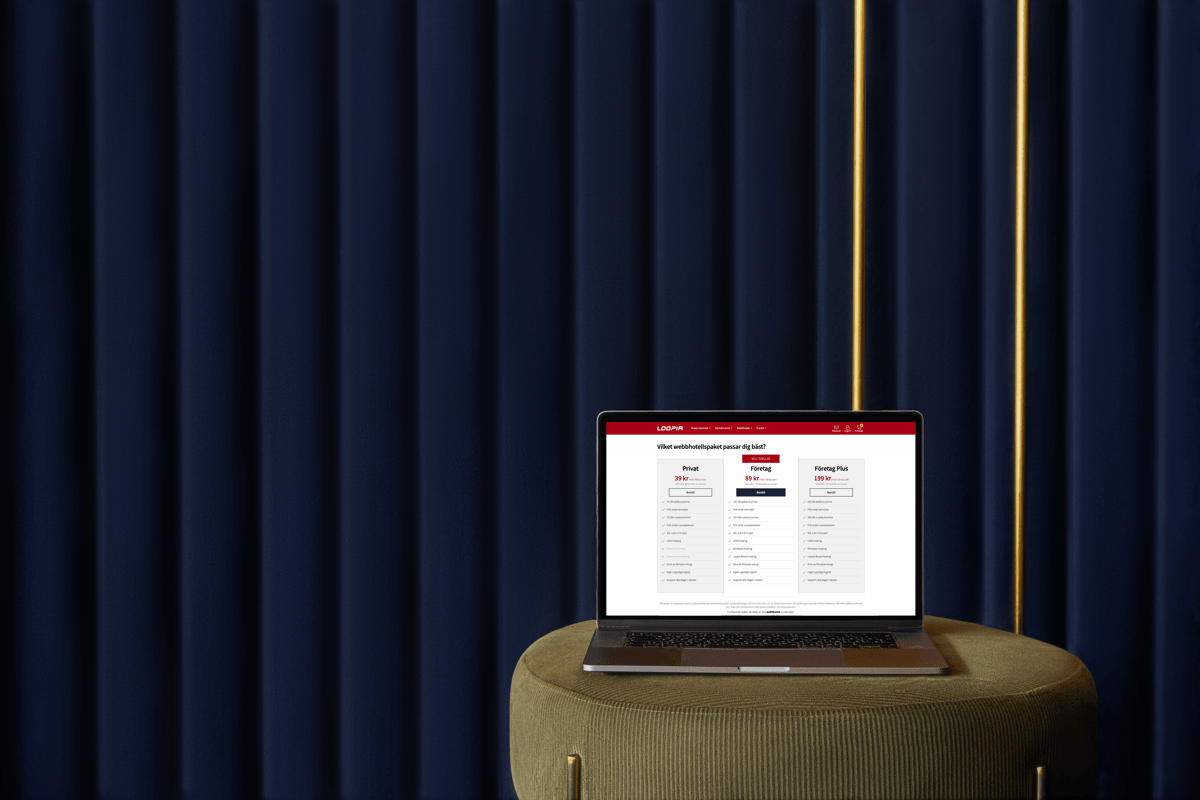 Vi på Loopia erbjuder användarvänliga tjänster, kunskapsdelning och en riktigt grym support som hjälper dig som företagare att snabbt och enkelt komma igång på webben med hemsida, e-post och allt annat du behöver för att göra succé online.
Om Loopia
Loopia är ett av Sveriges största och ledande webbhotell, med utmärkelser som "Sveriges bästa webbhotell" i tidskriften Internetworld. Vi har bedrivit vår verksamhet sedan millennieskiftet och finns idag i både Sverige, Norge och Serbien, och erbjuder också våra produkter och tjänster till övriga länder via loopia.com.
Marketing
·
Flera platser
·
Hybrid
Head of Web Development
This is a great opportunity to join a fast-growing tech company that provides important web services enabling entrepreneurs and makers to succeed online
Loading application form
Jobbar du redan på Loopia?
Hjälp till i rekryteringen och hitta din framtida kollega.