Product
·
Stockholm, Bratislava
·
Hybrid
Pricing Manager
This is a great opportunity to join a fast-growing tech company that provides important web services enabling entrepreneurs and makers to succeed online.
Are you an excellent problem solver with an analytical mindset? Are you excited about innovation and thrives in a fast-paced environment? Then join us as our new Pricing Manager!
Loopia Group is a leading European provider of web hosting services with presence in the Nordics and in Central Eastern Europe. We have attained a market leading position through innovative and customer friendly services for websites, emails and domain names, combined with long-term customer relationships and high-quality customer support. Through our market leading brands such as Loopia, Websupport, Active 24 and Hostingpalvelu we every day help over 600,000 individuals and SMEs to succeed online. Our company is growing rapidly, and we are now looking for a driven Pricing Manager to join our team and help us shape the exciting journey we have in front of us.
As a Pricing Manager at Loopia Group, you'll report to our Head of Data & Analytics and Pricing. Day to day, you will collaborate closely with the leadership team in our Product function, with our Product Managers, and many other key stakeholders in the organization across markets. You will play a key role in shaping our future offering and pricing roadmaps and you will contribute to our strategic direction and value creation agenda. You will be responsible for our market research and analysis to ensure we as a company innovate to meet new customer needs and outperform our competitors. You will also be an integral part of our innovation projects.
The role is based in our office in Stockholm, Sweden, or in our office in Bratislava, Slovakia.
Key responsibilities
Driving market research and insights from competition to help shape our offering, pricing strategy and roadmap
Drive the work of developing Loopia Group's offering and pricing strategy across our markets and brands
Operationalize and scale value creation initiatives in line with our strategy to meet our ambitions targets and KPIs
Responsible for our ARPU development and to follow up and take actions on deviations from plan
Collaborate with our team of Product Managers in developing new products and offerings and their pricing
Indirectly lead cross-functional / cross-market resources through efficient processes, communications and teamwork when collaborating on company-wide initiatives
Contribute to migration project with analysis on existing product portfolio and roadmap to get customer to target product portfolio
Conduct analyses and develop presentation material to support critical business decisions for our management team and board of directors
You have
2-4 years working experience as a pricing manager / business developer / business analyst in a product / tech company or as a management consultant
A degree in business / economics / engineering
Ability to work fluently in English. Fluency in Swedish, Finnish, Czech, Slovak, Hungarian or Serbian is a plus
Strong commercial mindset where previous experience from working with strategic pricing and offering is a plus
Excellent analytical and conceptual problem-solving skills with attention to details
Strong project management and organizational skills
Excellent Excel and Powerpoint skills
A team player attitude, balanced with an ability to work independently
Strong drive and is motivated by working in a fast-paced environment, and with an ability to deal with complexity
A can-do attitude
Does this sound interesting? Apply today by sending CV and cover letter to our Head of Data & Analytics and Pricing, Lars Johansson, at lars.johansson@loopiagroup.com
About Loopia Group
Loopia Group is an innovative European web hosting provider with the mission to help entrepreneurs and makers succeed online. We have more than 600,000 customers and a turnover of around 600 million SEK. We are a team of around 300 colleagues spread across 10 offices in Europe. Since 2018 we are owned by the Nordic private equity company Axcel. Our company is growing rapidly and we're currently in exciting innovation phase that is led by our committed teams and colleagues.
Read more about our company on loopiagroup.com.
Departments

Product

Platser

Stockholm, Bratislava

Distansarbete

Hybrid
Lediga tjänster hos Loopia
Välkommen till Loopia, Sveriges största webbhotell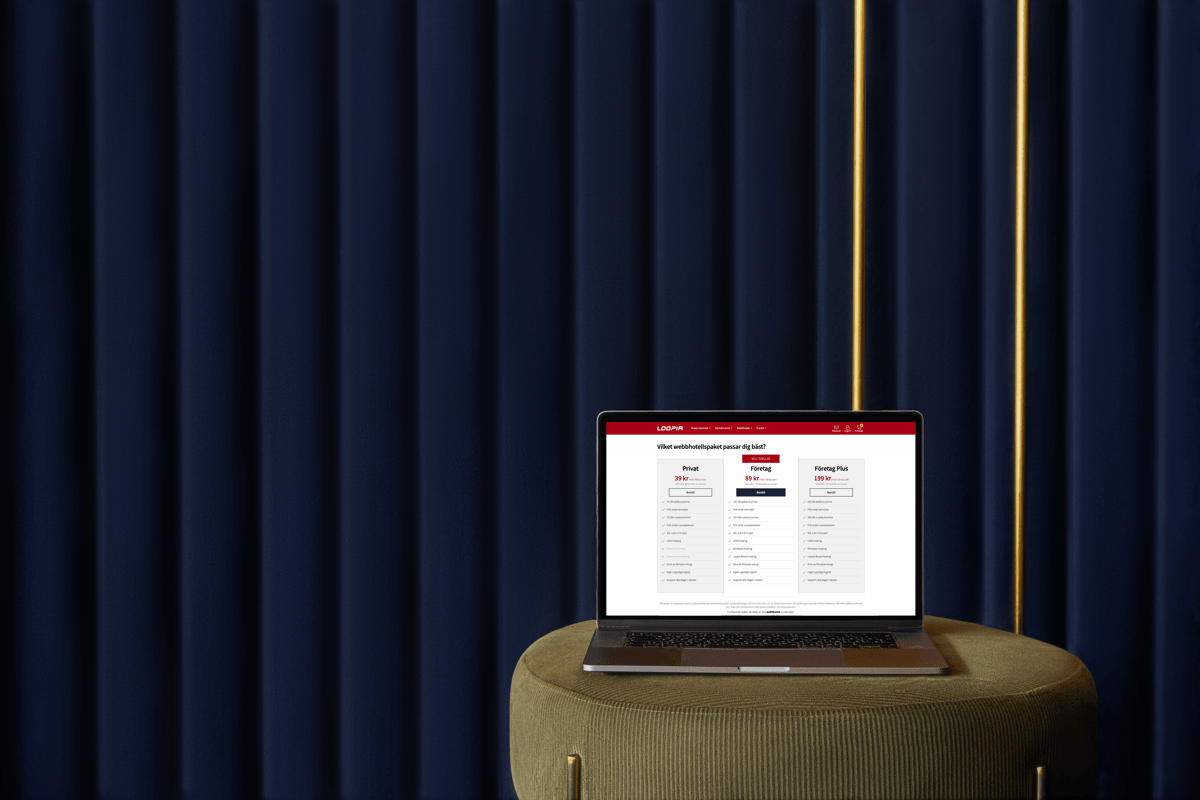 Vi på Loopia erbjuder användarvänliga tjänster, kunskapsdelning och en riktigt grym support som hjälper dig som företagare att snabbt och enkelt komma igång på webben med hemsida, e-post och allt annat du behöver för att göra succé online.
Om Loopia
Loopia är ett av Sveriges största och ledande webbhotell, med utmärkelser som "Sveriges bästa webbhotell" i tidskriften Internetworld. Vi har bedrivit vår verksamhet sedan millennieskiftet och finns idag i både Sverige, Norge och Serbien, och erbjuder också våra produkter och tjänster till övriga länder via loopia.com.
Product
·
Stockholm, Bratislava
·
Hybrid
Pricing Manager
This is a great opportunity to join a fast-growing tech company that provides important web services enabling entrepreneurs and makers to succeed online.
Loading application form
Jobbar du redan på Loopia?
Hjälp till i rekryteringen och hitta din framtida kollega.