Product
·
Flera platser
·
Hybrid
Product Manager
Come take care of products at Loopia Group!
Vi svarar vanligtvis inom en vecka
Come take care of products at Loopia Group! If you're a junior and want to grow, you most likely won't find a better opportunity than this one. On the other hand, if you're an experienced PM, we'll give you a chance to develop products for 6 European markets (Sweden, Finland, Slovakia, Czechia, Hungary and Serbia).
What will you work on?
Our product portfolio is as wide as you may have noticed on any of our websites. You will be given the opportunity to participate in various products and over time you will find out what you enjoy the most and where you have the most added value.
You'll be taking care of billing, pricing and collaboration on campaigns.
One of your priorities will be to evaluate the effectiveness of products and sketch the future direction of the segment.
You'll be mostly concerned with metrics related to revenue, acquisition, retention, CLV, churn rate and market share. Ring any bells?
You'll effortlessly communicate with external companies and domain registrars.
Do you like to keep a good track of everything? Great! Keeping tabs on the market, competitors and trends will be your domain.
Apart from the business aspect, being customer-oriented is key. Clients will be excited to communicate with you, because you'll solve their problem. Every day, you'll collect and manage feedback from both clients and colleagues.
Based on your experience and data, you'll design solutions, but also oversee the whole process, be it documentation, implementation, testing, release, continuous development and the gathering of feedback… don't worry, you'll get into it.
You'll contribute to customer behavior analyses, the customer journey, the segmentation of customers and more. In turn, you'll be able to move our products to the next level = win win :)
Every day, you'll collaborate and communicate with colleagues from Slovakia and Czechia,  Sweden, Hungary, Finland and Serbia. English! Do you speak it?
You'll be helping to migrate clients from other markets and consolidate the product portfolio into a common platform.
How's it looking so far? Excited yet? Rightly so!
What do we expect from you?
Experience with product management (ideally at least for 2 years).
Solid communication skills, because everything revolves around the product in our company.
Analytical skills, i.e. being able to interpret analyses as well as run them.
The ability to identify the underlying issue and a solution-oriented mindset (finding the stumbling block and getting it out of the way).
Initiative and interest in taking responsibility for whatever is necessary, i.e. analyses, documentation, testing, product management, creating business cases and tutorials #hustle
Proactivity and drive that you can expect to see both in the rest of the Product team and the whole company.
A level of English that will enable you to communicate daily, but also to build an argument and persuade your colleagues in a discussion.
Your opinion, the ability to defend it, but also to receive constructive feedback (we're not looking for sheep who just follow the herd).
Technical background and, ideally, experience with software and web development.
Have you managed to keep reading until now? You're a step closer to an interesting job. Keep going!
What will get you some bonus points?
Years of experience as a product manager, product owner.
Advanced experience with analytics and the ability to work with analytical tools.
Deeper experience in the hosting branch of commerce, or more precisely, knowledge of domain-related products – subdomains, DNS configuration and so on.
If you don't feel at home in these skills, don't worry. You can be all the more excited that we'll make sure to add them to your CV :)
This is what might be ahead of you
If you'd like to join us, send us your CV or anything else that would sell you well.
We'll let you know what's next as soon as possible (in 7 days or less). We'll then send you an assignment and agree on the process.
If you pass it with flying colors, we'll invite you for the first round of interviews, so that we can get to know each other better.
If it's a good fit, the second round of interviews will follow and you can expect to receive an offer.
And bam! You're part of the team.
What will your initial days look like?
During your first week, we'll walk you through how we run our company, our history and ambitions. Your new colleagues from various departments will gradually show you how we do things around here and you'll also learn how our Helpdesk works.
You'll familiarize yourself with the Product team and gradually take on the agenda from your segment. You'll get up to date with the backlog and you'll be able to add your own ideas and feedback.
We'll hand the agenda over to you as soon as possible, so that you can become an independent member of the team (it's not an oxymoron… we'll give you space and you'll help us improve our products)
Once the first three months are up, we'll go over your recommendations and a plan for what we'll work on together in your segment.
Departments

Product

Platser

Stockholm, Bratislava, Helsinki

Distansarbete

Hybrid
Lediga tjänster hos Loopia
Välkommen till Loopia, Sveriges största webbhotell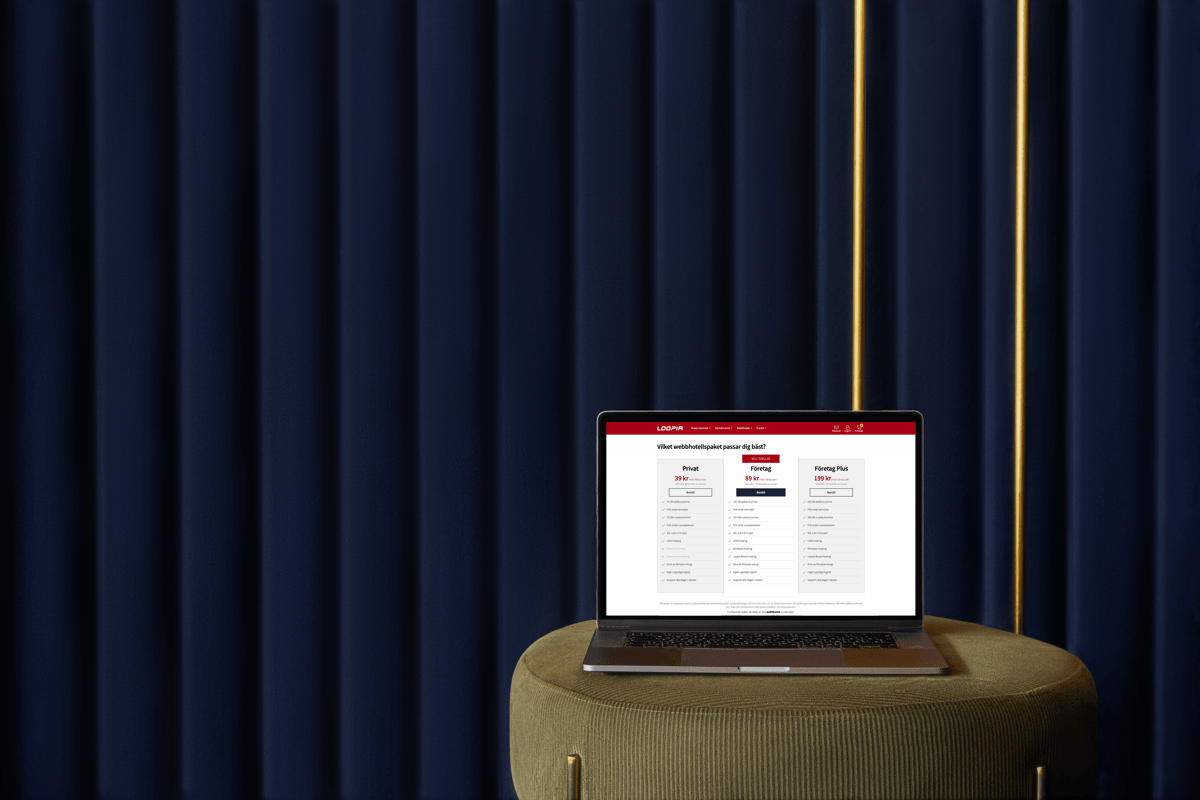 Vi på Loopia erbjuder användarvänliga tjänster, kunskapsdelning och en riktigt grym support som hjälper dig som företagare att snabbt och enkelt komma igång på webben med hemsida, e-post och allt annat du behöver för att göra succé online.
Om Loopia
Loopia är ett av Sveriges största och ledande webbhotell, med utmärkelser som "Sveriges bästa webbhotell" i tidskriften Internetworld. Vi har bedrivit vår verksamhet sedan millennieskiftet och finns idag i både Sverige, Norge och Serbien, och erbjuder också våra produkter och tjänster till övriga länder via loopia.com.
Product
·
Flera platser
·
Hybrid
Product Manager
Come take care of products at Loopia Group!
Loading application form
Jobbar du redan på Loopia?
Hjälp till i rekryteringen och hitta din framtida kollega.